Standby DX Hunters!
At the end of this month, renowned DA-RC DXpedition team, the 

'Globetrotters'

, have on their DX radar the majestic seascapes of Northern Ireland's Antrim County.
Here the duo (aka 104DA102 Syl and 104DA101 Roy) have singled out a number of lighthouses positioned around Larne Seaport for some momentous 11m dx action.
From lighthouse grounds and/or within visual sight the activities will take place with a compact portable station planned for each DX mission.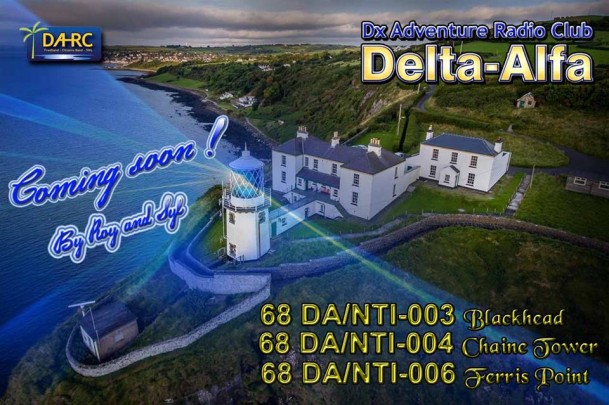 LOTA DXSTINATION 1

The first LOTA DX opportunity provided by the nomadic Corsican pairing is 

'Blackhead Lighthouse'

.
Pictured above, this spectacular clifftop structure has the Amateur Radio Lighthouse Society assigned reference NTI-003.
Situated on the Islandmagee peninsula on the east coast of County Antrim, 

Blackhead Lighthouse

 was built at the turn of the 20th century.
A significant maritime safety aid, it marks the very northern end of Belfast Lough where it opens out into the North Channel that separates Northern Ireland and Scotland.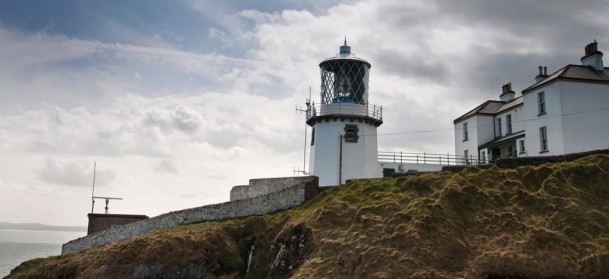 Nearby Northern Ireland's main power station Ballylumford, this lighthouse consists of an octagonal stone tower 16m high, with lantern and gallery painted white.
Reconnaissance indicates that the main two-storey keeper's house is built close by and linked to the tower by an enclosed walkway.
There's also an adjacent detached superintendent's house.
History reveals that the 

Blackhead Light (NTI-003)

 was electrified in 1965 and became automatic in 1975.
With a focal height of 45m above the sea, the light from the first order Fresnel lens with its 400W bulb can be seen for 27 nautical miles, with a characteristic of a single white flash every 3 sec.
---
---
LOTA DXSTINATION 2

Next on the team's LOTA hit-list is the 

Chaine Tower/Sandy Point Lighthouse

which is located on the west side of entrance to Larne Lough.
The ARLHS has assigned the reference 

NTI-004

 to this exquisite navigational dxstination which is situated by the water on a stretch of beach known as 'Sandy Bay'.
Constructed in 1888 and converted to electricity in 1935, this is a 23m high cylindrical stone tower lighthouse with a conical roof.
Interestingly, this unpainted lighthouse is a memorial to the late politician James Chain who was reportedly buried standing up and overlooking the Larne harbour.
---
---
LOTA DXSTINATION 3

Third on the Globetrotter's DX agenda is 

Ferris Point Tower

 which is found on the eastern side of Larne Lough.
This former beacon carries the reference 

NTI-006

 in accordance with the ARLHS 'World List of Lights'.


Constructed in 1839, this is a square cylindrical tower supporting a large square, glass-enclosed control room.




The 15m high tower is painted white while the control room is in black.


According to the history books, the lighthouse became redundant when a directional light was installed in the 

Chaine Tower Lighthouse

 on the other side of the harbour entrance.


_________________
73's de Loïc
14BG005 - 14TW035 - FE80423
Locator IN96KW